Originally published on the CIMMYT website.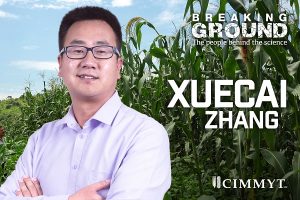 Xuecai Zhang wants to merge traditional maize breeding methods with new software and other tools to help improve farmers' yields faster than ever. "In the next three decades we need to increase agricultural production by 70 percent to meet projected food demand," said Zhang, a maize genomic selection breeder at the International Maize and Wheat Improvement Center (CIMMYT). "However, crop yields, while improving, are not increasing quickly enough to meet this challenge. We must explore new methods and technologies that can speed up our crop breeding processes if we hope to feed a world with over 2.3 billion more people by 2050."
Zhang first arrived at CIMMYT in 2009 while completing a doctorate in applied quantitative genetics. He subsequently returned as a postdoctoral fellow in 2011 to undertake molecular breeding and coordinate CIMMYT's maize genomic selection program. Since his return, he has focused mainly on helping breeders and statisticians work together to create new tools that can help accelerate the breeding process through genomic selection.