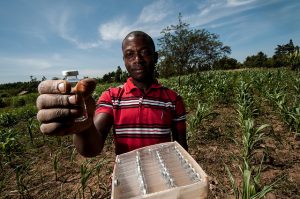 "We're at the forefront of understanding how we can make the most of soils to remove carbon dioxide from the atmosphere," said Rolf Sommer, principal soil scientist.
Research shows that, small farms emit higher quantities of Green House Gas emissions(GHG) per calorie of food produced compared with larger ones this is because tilling the soil on a more regular basis, especially on smaller plots of land, accelerates the process of decomposing organic matter – required to move from net loss to net sinking
However, using the best management practices available  should boost farm productivity and efficiency without putting additional stress on farm resources, finances or workloads of men and women.Moreover,these practices  should be compatible with the realities of farmers.
It may take only little incentives for a farmer to adopt soil conservation practices that significantly reduce losses of carbon from soils.
As scientists work to beat climate change, 500 experts from around the world will discuss protecting the largest carbon store we have: soils,at the Global Symposium on Soil Organic Carbon (GSOC17) on  March 21st – 23rd.
Click here for the full story.
Originally published on CIAT Website.