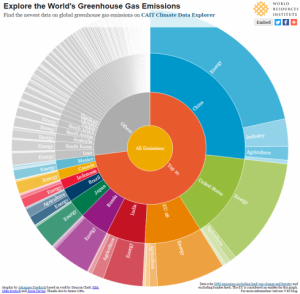 A lot has happened since countries met in Paris in 2015 and agreed on an accord to combat climate change. So far, more than 140 countries have ratified or otherwise joined the Paris Agreement, representing more than 80 percent of global emissions. Several major economies, including Canada, Germany and Mexico, have also developed long-term plans to decarbonize their economies.
As countries implement their targets and policies and develop more detailed pathways to reduce their emissions, it's important to fully understand our global emissions picture and how it has changed over time. WRI recently updated its CAIT Climate Data Explorer on the world's top greenhouse gas-emitting countries with the latest global data available (2013). Here's an interactive chart to explore it by country and by economic sector, showing how the top emitters have changed in recent years.
Originally published on the WRI website.