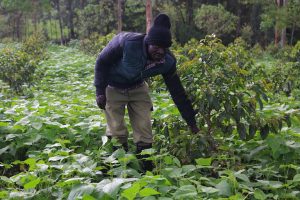 The Cherangani people, an indigenous community in Kenya's Rift Valley, have always called the Cherangani Hills Forest their ancestral home.
Also known locally as the Sengwer, they were traditionally reliant on the forest for hunting and gathering, herbal medicines, honey, and sorghum and millet farming. Then the colonial government evicted them from the forest, only permitting them access to medicinal plants; gathering and hunting in the forest is still prohibited.
Their gardening of the forest required that they regularly rotate homestead areas, about every two years, to protect them from degeneration.
"The forest was our source of honey, hunting animals, and wild fruits for food. Seeds from some fruits found far away from the homesteads would be dispersed closer to the homestead to allow the children and the elderly access," says Abraham Mworor Maina, a 94-year-old former assistant chief and father of 16.
Mworor says his community, dependent on sorghum and millet, used shovels curved with stones for minimal soil disturbance, and intercropped the grains with trees in an agroforestry system. "We also farmed between trees, as [they] provided shade. We also relied on the decayed trees' leaves for soil health."
"Agroforestry has been with us ever since before man discovered agriculture," says Jonathan Muriuki, the World Agroforestry Centre (ICRAF) country representative for Kenya. "As a hunter-gatherer, man would harvest fruits from the forest he was living [in] and at some time started domesticating some crops and animals, and clearing space to grow these crops. That's where it all started."
Muriuki says agroforestry tries to improve agriculture and productivity by having many components on the farm. "Several crops [like] cereals and legumes are intercropped with trees interspersed on the farm: the trees were either used for livestock fodder production, timber, fruit, [or] soil improvement, but the more species you have on the farm, the more ecologically balanced a farm becomes."
Originally published by Mongabay