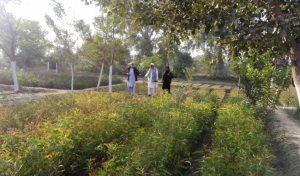 Launched in 2015 by Imran Khan, Chairman of Pakistan's Tehreek-e-Insaf party, the Billion Tree Tsunami aims to turn the tide on land degradation and loss in the mountainous, formerly forested KPK province in the Hindu Kush mountain range. The campaign simultaneously helped KPK province fulfil its 348,400 hectare commitment to the Bonn Challenge – a global effortto bring 150 million hectares of deforested and degraded land into restoration by 2020 and 350 million hectares by 2030. This marks the first Bonn Challenge pledge to reach its restoration goal.
"The project is naturally restoring a previously deforested landscape, which will assist in meeting present and future needs and offers multiple benefits for climate adaptation and mitigation in a very climate-vulnerable province," says Muhammad Tehmasip, Project Director of the Billion Tree Tsunami.
The project has achieved its restoration target through a combination of protected natural regeneration (60%) and planned afforestation (40%). In addition, it has established 13,000 private tree nurseries, which have already boosted local incomes, generated thousands of green jobs, and empowered unemployed youth and women in the province.
"IUCN congratulates the province of Khyber Pakhtunkhwa on reaching this momentous milestone. The Billion Tree Tsunami initiative is a true conservation success story, one that further demonstrates Pakistan's leadership role in the international restoration effort and continued commitment to the Bonn Challenge," says Inger Andersen, Director General of IUCN.
Click here for the full story.
Originally published on the IUCN website.