Originally published on the CARE website.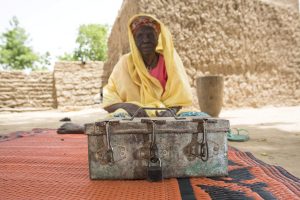 For 25 years, CARE Village Savings and Loan Associations have powered change through innovative economics. It all started with a few women and a lockbox in remote Niger. Zeinabou remembers 25 years ago when a Norwegian woman named Moira Eknes came to her village in eastern Niger carrying a gray metal box. Zeinabou couldn't have known then how she and other women in the village of Kagadama would use it to change their lives and their community — or how an effort that started with her would swell to millions of people around the world.
Eknes, a CARE program advisor, had arrived in Niger to implement a tree-planting project with women like Zeinabou. She quickly learned, however, that with no right to own land, women were much less interested in planting trees than in making ends meet for their families. With few income-producing options available to them, they came up empty, in spite of their endless work pounding millet, fetching water and handling most other household chores.
So they and Eknes changed course, devising instead a homegrown system of microfinance that harnesses the ancient practice of group savings. It was and is called CARE's Village Savings and Loan Association, an innovative program known throughout Niger today as Mata Masu Dubara, or "Women on the Move."