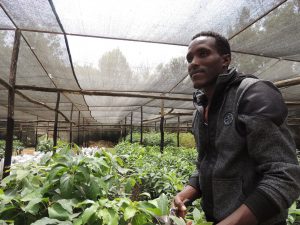 Migration is no longer the only option for many young Ethiopians, as careful restoration revives livelihoods on eroded and deforested land.
Kahsay Gebretsadik was arrested at 5am in Saudi Arabia. As an illegal immigrant with no papers he knew this was the end of his stay. After 15 days in prison, police placed him on a plane to Addis Ababa, one of 160,000 Ethiopian migrants expelled from Saudi Arabia in recent years. A perilous trek out of Ethiopia followed by two years of back-breaking work for a Bengali building contractor had come to nothing.
Gebretsadik, now 30, is one of nine children. The family has just 0.6 acres of land in the semi-arid state of Tigray, where only 400-800mm of rain falls a year. The land offered no work and Gebretsadik failed to find a job after school – even though his country's economy had been growing by double digits for a decade – so when he heard "interesting stories" from friends, he opted to migrate.
As is most often the case in Africa, he headed to a nearby region. "I walked through Djibouti and then to Yemen," he told me. "Because our journey was illegal, we were guided by brokers. We walked day and night for more than a month – 170 males and females. Sometimes the brokers fought. It was not good for me."
Now home again in Gergera in far north Ethiopia, Gebretsadik is hopeful that land restoration will allow him to stay there. He has joined a group of 15 that includes four other returnees, and they are running a business producing tree seedlings and fodder grass for farmers and to support regreening in their local authority.