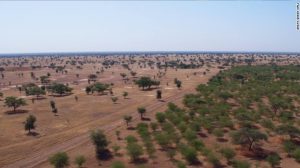 A 7,700 kilometer wall of trees, running through 11 countries along the southern frontier of the Sahara Desert. That's what the African Union proposed in 2007, a "Great Green Wall" that was to be the largest living structure on the planet.
The purpose was to provide a mighty barrier against the advance of the Sahara, and to reverse the plague of desertification spreading drought, famine and poverty through the Sahel region. The Great Green Wall Initiative for the Sahara and Sahel Initiative (GGWSSI) has since gained rocket boosters. Today, the Initiative has 21 African countries participating, over $4 billion of pledged funding, and heavyweight partners from the World Bank to the French government.
The projects has sky-high ambitions; to restore 50 million hectares of land, provide food security for 20 million people, create 350,000 jobs, and sequester 250 million tons of carbon. Work is already underway. The GGWSSI recently reported that 15% of trees have already been planted, largely in Senegal, where four million hectares have been restored. But the grand vision rests on a suspect premise.
Click here for the full article