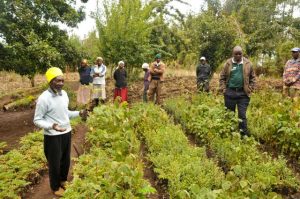 Kenya announced on September 8th that it will restore 5.1 million hectares (12.6 million acres) of degraded land, an area roughly the size of Denmark, to more productive use. The move is poised to improve livelihoods, curb climate change, safeguard biodiversity and more.
As a result of poor land use, including overcultivation and overgrazing, Kenya has been quickly losing land todesertification. The drylands that make up much of the country are particularly susceptible.
Kenya's restoration plan is not only notable because it will reverse some of this degradation, but because of how the country set its international target.
WRI participated in a technical working group that used a novel research approach to map Kenya's different land areas. That group found 38.8 million hectares (96 million acres)—more than 65 percent of Kenya's total land area—suitable for restoration. The goal announced last Thursday represents more than 13 percent of the total restorable land area. (View the map here.)
The development of this map goes beyond spurring the commitment—it will help government, civil society and business leaders ascertain how they will achieve it. Local leaders can use the map to identify restoration activities, which could involve everything from planting trees alongside crops to reforesting clear-cut forests to adding vegetation along roads.