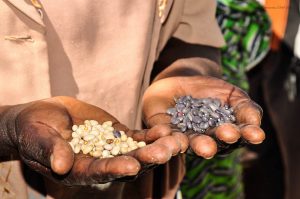 Less than a year after supplying farmers with legume seeds and fertilizer tree seedlings, the Legume CHOICE project team caught up with farmers and traders in Kisii and Migori counties of Kenya. The farmers were already enjoying the benefits and were keen to scale up.
Legume crops like beans and peas (known collectively as pulses when dry) are a versatile and affordable source of protein and other important nutrients. A mainstay of vegetarian diets, legumes play a critical role in meeting the protein needs of people who cannot access animal proteins such as meat and eggs.
The Legume CHOICE project is supplying farmers with their choice of seeds of beans and other legumes, which they grow for home consumption and sale. In addition, the farmers receive advice on how to grow the legumes and on better land management, part of which is growing useful trees and shrubs. In this way, the project aims to fully realise the potential of legumes to improve diets and livelihoods of people practicing mixed crop-livestock farming in East & Central Africa.  It is currently active in Kenya, Ethiopia, and the Democratic Republic of Congo (DR Congo).