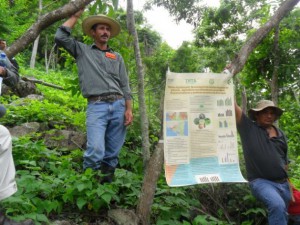 For Roberto Pineda, a smallholder farmer in the Somotillo municipality of Nicaragua, his traditional practice after each harvest was to cut down and burn all crop residues on his land, a practice known as "slash-and-burn" agriculture.
A widespread practice on these sub-humid hillsides of Central America, it was nonetheless causing many negative environmental implications, including poor soil quality, erosion, nutrient leaching, and the loss of ecosystem diversity. Slash-and-burn allows farmers to use land for only one to three years before the plots become too degraded and must be abandoned.
"We used to work in our traditional way, pruning everything down to the ground, and if there was anything left we would burn it," he said. "The land would be destroyed and things weren't getting better."
But about three years ago, Pineda and a group of farmers became involved in an agroforestry programme overseen by a group of partners including the International Center for Tropical Agriculture (CIAT) as well as Nicaraguan, American, Austrian and Colombian institutions.
The programme works with farmers to enhance the eco-efficiency of their rural landscapes, helping them to introduce stress-adapted crop and forage options and improve crop and livestock productivity and profitability. This helps smallholders not only to improve local ecosystems but also to adapt to extreme climate conditions and safeguard soil fertility and food production over the long term.
"Now we have seen a change," Pineda said. "We used to yield 10 quintals per manzana, and now we produce between 30 and 40 quintals per manzana. We have improved our natural resources, and trees have grown. Before, we had no trees and there was no rain."