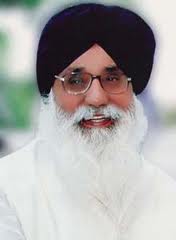 Punjab Chief Minister Mr Parkash Singh Badal today reiterated his government's firm commitment to put the state on fast track of Agriculture diversification in order to achieve twin objective of restoring soil's fertility and checking the depletion of water table on one hand and strengthening the agrarian economy on the other.
Winding up the intensive discussions after two days meeting with central team of Agriculture experts and progressive farmers here today, the Chief Minister said that these fruitful deliberations had helped the state government to prepare a roadmap for the implementation of Agriculture Diversification plan in a phased manner. Mr Badal said the over exploitation of its natural resources i.e. micro nutrients of soil and ground water had sounded alarming bells for the state government towards second push to 'Green Revolution' which was the need of the hour. He announced in the meeting that the state government would submit comprehensive proposals in this behalf to the Union Ministry of Agriculture positively by April 30th.
The Chief Minister revealed that the state government   has chalked out a strategy to reduce major area of state under paddy cultivation to alternate crops with a view to shift from supply driven to demand driven agriculture. It was purposed to shift this area to Maize (5.5 lakh hectare), Cotton (seven lakh hectare), Sugarcane (2.6 lakh hectare), Guar (0.3 lakh hectare), Fodder (5.5 lakh hectare), Arhar (0.6 lakh hectare). Moong bean (0.6 lakh hectare), Kinnow (0.8 lakh hectare), Guava and Pear (0.2 lakh hectare), Agro Forestry (three lakh hectare), Groundnut (0.2 lakh hectare) and Vegetable (0.5 lakh hectare), he added. Mr Badal said that the Diversification plan would be instrumental in ensuring long term sustainability and improving farm incomes.
Listing out the initiatives to promote diversification, the Chief Minister said that APMC Act 1961 was being amended to provide direct marketing and setting up of private markets. He said that new Contract farming act has been enacted and notification has been issued to regulate the contracts and make mutual obligations enforceable. To incentivize the cultivation of Basmati, infra structure cess on it had been abolished to give boost to its export. The state government was seriously contemplating to review the tax structure on marketing of alternate crops by lowering them considerably to ensure a level playing field to all the stakeholders. Effective steps were afoot to incentivize the cultivation of Maize, Cotton, Sugarcane, Fruits and vegetables through ensuring  subsidized supply of hybrid seeds, weedicides etc., capital assistance at the rate of 50% for purchase of Maize planters and harvesters, cotton pickers, strengthening of infra structure in designated markets, timely availability of quality seeds through MoU with BT hybrid seeds manufacturing companies, establishment of Tissue culture labs in sugar mills, supply of quality planting material propagated through tissue culture besides setting up of four modern wood timber markets in Dasuya, Hoshiarpur, Balachaur and Ludhiana to promote Agro Forestry in a big way.