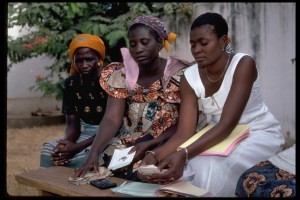 With just over two months left till a new international climate change agreement is being finalised in Paris, the Montpellier Panel is launching a new report today, "The Farms of Change: African Smallholders Responding to an Uncertain Climate Future", which addresses some of the key challenges to climate-proof Africa's smallholder farmers.
As we all know, two of the greatest challenges of the 21st century are the increasing demands for food, water and energy from a growing population and – climate change. Agriculture and smallholders are central to both, perhaps nowhere more so than in Africa. Africa is already battling against the impacts of climate change and smallholder farmers are amongst the most vulnerable with the least capacity to adapt. Rising temperatures signal more extreme weather events that will put lives and livelihoods at greater risk, increasing smallholders' vulnerability to drought, famine and disease. And whilst progress has been made during the last two decades to reduce hunger and to improve farmers' livelihoods, climate change jeopardises these gains.
High levels of poverty and underdevelopment combined with insufficient infrastructure exacerbate the already severe impacts of global warming on resources, development and human security. In order to adapt to and mitigate the effects of climate change, international organisations and governments must help smallholders to reduce and off-set greenhouse gas (GHG) emissions.