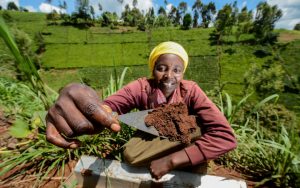 A 2016 study in the Nature journal showed that carbon sequestered by trees on agricultural land could be more than four times higher than previously thought. The research was carried out by a team of scientists from several organizations, including CIAT.
Between 2000 and 2010, tree cover on agricultural land increased by 3 percent globally, resulting in a 4.6 percent increase in biomass carbon. Yet while the importance of carbon stored and sequestered by forests is widely recognized and land cover changes well monitored – see for example Terra-i – carbon stored by trees on agricultural land needs to be better measured.
The benefits of increasing tree cover on agricultural land go far beyond carbon sequestration. Trees increase soil organic matter and improve soil health, making farms more resilient to climate extremes. They also help protect soils from erosion, and tree products such as fruits and nuts contribute to food security, incomes, and more diverse diets.
Since trees stay in the soil for many years, their biomass contributes to a build-up of carbon over the long term. Growing more trees on farmland could be a significant route to increasing carbon sequestration, above and below ground.
Originally published on the CIAT website.