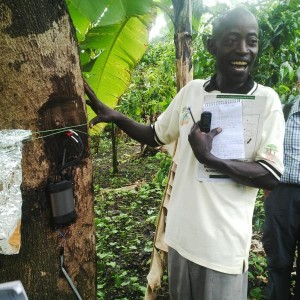 "It's better to have a team of good farmers than good researchers, in terms of impacts." These were Tony Bartlett's remarks during the Trees for Food Security (T4FS) Project review in Uganda. Richard Namunyu, a lead farmer of the Project wowed reviewers with his vast knowledge of trees and farming, as well as the extensive work carried out on his 10 acre farm. Through a tour around the farm, reviewers got to sample most of the participatory trials he hosted such as fodder banks, tree diversity, trees for shade and food, firewood, boundary planting as well as the sap flow biophysical experiments.
During the tour Namunyu was keen to highlight the benefits and income earning opportunities opened up by the project including fodder, firewood, charcoal, mulch, high crop and milk yields, fruits, supportive function for Matoke and climbing plants like yams, knowledge on tree planting, management and nursery development.  "I am earning more through this project than I used to before. I now earn UGX 200,000 from each acre of beans in each harvesting period, and through sale of timber, I get an average annual income of UGX 3 million. My 6 children have never been sent home for lack of fees or study materials,"stated Namunyu.
These benefits are incurred through various tree and shrub species on his farm, some of which were introduced by the project, including: Calliandra Calothyrsus, Maesopsis eminii,Neolamarckia cadamba, Eucalyptus grandis, Mahogany, Cordia africana, Melia volkensii, Neem, Alnus acuminata and Leucaena leucocephala. "The project has issued seedlings in 2 phases, 500 in each, and in the past year, I have planted 1,500 trees on my farm. It's also my policy to plant ten (10) more trees once I cut one for charcoal production."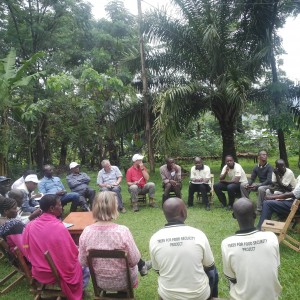 In addition to the planting recommendations made by the project, Namunyu created diverse innovations to not only suit his needs but also double his benefits. The scientific recommendation as to the appropriate height to cut Calliandra is 50cm, but Namunyu choses to cut at 20cm, noting his innovation increases chances of other branches and leaves to sprout, retain the lower leaves and ensure the tree doesn't dry up. Mr Namunyu also noted that he has introduced another innovation to his farm which entails reducing the spacing between the trees, applying a space of 1ft between the Calliandra seedlings, prior to the recommended spacing of 2ft by the Project. This innovation came about when he realized wider spacing of Calliandra translates to a bigger stump and roots hence a challenge in uprooting the shrubs when he needed to utilise the space. . However, with a smaller stump courtesy of the smaller spacing, once the shrub is mature, it's easy to uproot and no extra labour or machinery is required for the same, thus cutting on costs.
In the case of Melia volkensii, Namunyu opts to space at 2 metres (instead of 4m) since it is a fast growing tree and he will require it for various uses therefore when pruning he wouldn't want the process to interfere with the next tree. Namunyu also noted that he opted to plant some Calliandra trees vertically (along his farm) instead of horizontally so as to form a hedge and clearly define the entrance and boundaries to his homestead and farm. Catherine Muthuri, T4FS project leader, noted appropriate synchrony between trees and coffee on Namunyu's farm, which he attributed to trimming of the top coffee branches to avoid them getting too close to those of the tree. This ensured each gets ample nutrients and light hence minimising competition.
Namunyu highlighted that farmers usually plant trees without prior knowledge of how they behave towards other crops and the environment as a whole. Through his brief experience with the sap flow instruments, Namunyu explained the tree water uptake, and leafing phenology (shedding and flushing) of the tree solely depends on seasons, knowledge he didn't have before. "It sure has been a challenge hosting the sap flow instruments as some farmers considered the trees with the instruments as bad. It has therefore taken me time to go around homesteads and LLCs, informing them of the benefits of the instruments, which will guide them in future while purchasing and planting trees, on the suitability of each species on the farm," noted Namunyu. Through this, farmers around the area have been keen to learn more from him as well as take part in project activities.
"I am very proud of the project and that is why I don't want it to just be about the activities and recommendations highlighted, but also about a learning and exploring opportunity for my family and I, before the Project comes to an end. I want to enjoy the process as well as reap maximum benefits, and that is why I have tweaked some of the ideas given. Farmers in this area tell me I have more than enough, why work so hard? I however say, I am not satisfied, and since I have the energy and land, there is no reason to stop," justified Namunyu.