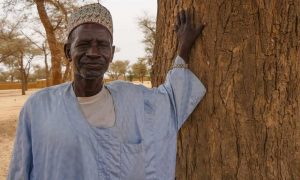 Rain had come to nearby villages, but not yet to Droum in south-east Niger. The sand under its stately trees looked completely barren, but Souley Cheibou, a farmer in his 60s, was not worried. He crooked a finger, fished in the sand, and brought out a millet seed. In a week or two, this seed would germinate and sprout, and soon the whole field would be green.
Cheibou's peace of mind stemmed from the trees encircling him, which had been standing long before he was born. Despite appearances, these were not any old acacias. They were gao trees – known as winterthorns in English – with unique, seemingly magical powers.
From the peanut basin of Senegal to the Seno plains of Mali, to Yatenga, formerly the most degraded region of Burkina Faso, and as far south as Malawi: gaos are thriving in Africa. And over the past three decades, the landscape of southern Niger has been transformed by more than 200m new trees, many of them gaos. They have not been planted but have grown naturally on over 5m hectares of farmland, nurtured by thousands of farmers.
According to scientists, what has happened in Niger – one of the world's poorest countries – is the largest-scale positive transformation of the environment in the whole of Africa. This is not a grand UN-funded project aiming to offset climate change. Small-scale farmers have achieved it because of what the trees can do for crop yields and other aspects of farming life.
"It's a magic tree, a very wonderful tree," said Abasse Tougiani of Niger's National Institute of Agricultural Research, who has travelled all over Niger studying Faidherbia albida – the gao's Latin name.
Shielded from the sun, crops planted under the canopy of a tree usually do not do well in the short term, although there can be longer-term benefits. That's one reason why many west African rainforests have been decimated. But with gaos, it's the other way round. The root system of the gao is nearly as big as its branches, and unusually it draws nitrogen from the air, fertilising the soil. And unlike other trees in the area, gao tree leaves fall in the rainy season, allowing more sunlight through to the crops at a key moment.
Used along with mineral fertilisers, crop yields double under gaos, and the gao-nourished soil holds water better, ensuring a better crop in drought years.
Click here for the full story.
Originally published by The Guardian