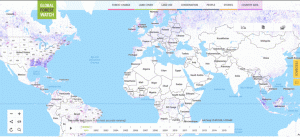 Deforestation is a global problem, more so in the developing and the underdeveloped world, thanks to ineffective laws and corrupt administrations in some parts of the world. But help is at hand. Now, when a new road appears in the dense forests of Peru, or a patch of forest is felled Malaysia, anyone with an Internet connection can be alerted of the loss.
A Landsat-based alert system, developed by the World Resources Institute as part of its Global Forest Watch network, gives near-weekly alerts for changes smaller in size than a football field. The tool uses imagery from Landsat 7 and 8 to monitor forests across the world every eight days. That revisit time, or data cadence, together with Landsat's 30 meter spatial resolution, allows land managers to know when small incursions into forests are being made — in time to respond before further damage is done.
Originally published on the Geospatial Website .