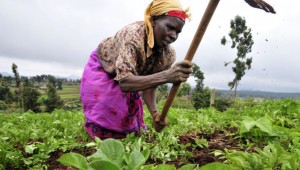 Female-friendly agricultural technologies and innovations are needed to bridge the gender gap in agricultural productivity and food security.
A forum dubbed Empowering women for sustainable natural resource management, which was held in Kenya last month (3 March), noted that there are challenges and opportunities that exist in promoting gender equality in Africa, adding that policy and institutional interventions are needed to enhance women participation in environmental management.
Speakers at the forum said that women find it difficult to apply and use some agricultural technologies and innovations because of their technical and labour-intensive designs, noting that most are geared to commercial farmer and not smallholder farmers, most of whom are women.
"For instance,  the briquette machine that sought to ease women's energy needs and the MoneyMaker technology for irrigation require a lot of physical strength to use, [thus] disadvantaging women ," said Annabel Waititu, the executive director of the Institute of Environment and Water Management in Kenya.
Aisha Karanja, the executive director of Kenya-based Green Belt Movement (GBM), an organisation that empowers communities, especially women, in environmental conservation, added: "Indeed gender inequality remains an underlying factor in women's agricultural productivity."
Jean Jacob Sahou, the regional development coordinator of the United Nations Environment Programme (UNDP) Africa office in Kenya, said women and children suffer the most from environmental degradation as a result of  their role in day-to-day activities of wood and water collection, food processing as well as from poor agricultural incomes. The forum was organised by the GBM, the African Union Commission and the UNDP.
Addressing the forum from the perspective of a researcher, Mary Njenga, a postdoctoral fellow in bio-energy at the World Agroforestry Centre, Kenya, said researchers need to observe women smallholders on the ground. She adds that researchers could use science and technology to improve what already know, noting that doing so could help women adopt technologies that researchers would create.