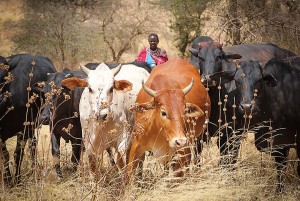 The name itself sounds idyllic: pastoralism. That's the broad term used to describe nomadic communities who raise livestock across open areas of land as water supplies and seasons change. Cattle raised in such a manner is the main source of livelihood for people in northern Kenya; it accounts for about 10 percent of Kenya's gross domestic product and 95 percent of family income among pastoralists, according to estimates from Kenya's Ministry of Agriculture.
In drought-ravaged Samburu County, 86 percent of the population lives below the poverty line. But it's on this semiarid landscape that Aviram Rozin, founder of Sadhana Forest, is training Samburu pastoralists to grow forests—food forests.
Designed to emulate the layered ecology of a natural forest, a food forest is made of seven layers that range from tall trees to short shrubs, each working in support of the others. In Samburu County, these forests are planted with 18 species of drought-resistant, fruit-bearing indigenous trees and shrubs, including African oak, the fruits of which are said to be rich in protein and iron, and moringa, known locally as "mother's helper" thanks to its fruit, which helps stimulate milk production in lactating mothers and reduces malnutrition among infants. Sadhana Forest has trained more than 1,000 people in this low-tech approach to agriculture since it launched its Kenya operation in May 2014.