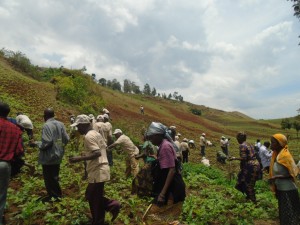 At the start of this year, Patrick Kaka dreamt of trees for his community in eastern Democratic Republic of Congo (DRC), and lots of them!
Despite some initial challenges with missed funding opportunities and a quick trip across the border to Burundi to get tree seedlings, Patrick was able to realize his dream in early October. This was through the inauguration of a National Tree Day (Arbor Day equivalent) for his home community on the shores of Lake Kivu, eastern boarder of the DRC. Through his NGO, GIERI (Groupe d'Intervention Pour l'Encadrement Et La Rehabilitation Integral or Intervention Group for Farming and Integral Rehabilitation), Patrick was able to access some support from GIZ and work his community through a Landcare approach, to embark on the start of his EverGreen Agriculture dream for eastern DRC.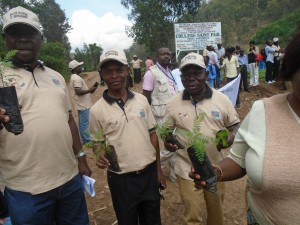 In what is considered a first for the region, the tree-planting day on the 8th October 2015 attracted the participation of the Provincial Minister of Agriculture, the military and local residents, to plant over 5,000 agroforestry species, including Faidherbia, Gliricidia and Eucalyptus, within farmer fields near Bukavu.
Patrick commented that the focus of the day was to raise awareness amongst the community of the importance of trees for both environmental protection and household livelihoods. He added that the participating community were grateful for the integration of trees and shrubs directly into their agricultural fields which will increase the productivity, income and resilience of their farming systems.
The planning and implementation of the tree planting program was heavily reliant on the community adopting a Landcare approach to their activities, through instilling ownership and management of the natural resource amongst the community. Patrick noted that creating public awareness of the tree planting activities through a participatory framework was a key driver, in addition to engaging other relevant partners, such as the local authorities to support environmental management initiatives on private lands.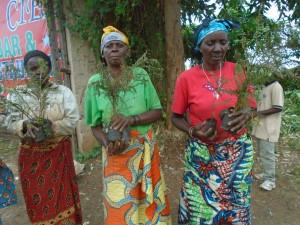 When asked what the future challenges for communities in eastern DRC were, Patrick noted that "farmers in our community need guidance in technical skills for nursery management and species diversity for high-yielding species inter-cropped in farming land. We also need enabling policies and incentives to invest in environmental services that protect biodiversity, sustainable land and water management around Lake Kivu".