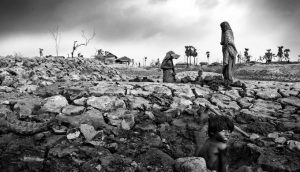 A new study looks at five major impacts of climate change, the sectors and the people most vulnerable.
Almost 750 million people in South Asia were affected by floods, droughts, extreme rainfall, heat waves and sea-level rise — all impacts of climate change or worsened by it — in the first decade of this millennium, according to new research by the International Water Management Institute (IWMI).
Agriculture was the sector most vulnerable to these impacts, authors of the report found. The Indo-Gangetic plain was at maximum risk. The causes and effects of these disasters have been studied sporadically in the past. Now the authors of this report have applied a consistent methodology to study them, including assessment of the population affected along with agricultural losses. The study has used spatial data and customised tools.
The authors — Giriraj Amarnath and Niranga Alahacoon of IWMI; Vladimir Smakhtin of the United Nations University, Institute for Water, Environment and Health in Ontario, Canada; and Pramod Aggarwal of the CGIAR Research Programme on Climate Change, Agriculture and Food Security — carried out regional, country-wise and sub-national assessments of the five climate-related risks. They did this by overlaying climate hazard, sensitivity and adaptive capacity maps, following the vulnerability assessment framework of the Intergovernmental Panel on Climate Change (IPCC). With this, they developed a combined index based on hazard, exposure and adaptive capacity to identify areas susceptible to extreme risk.
The study used data on the spatial distribution of various climate related hazards in 1,398 sub-national areas of Bangladesh, Bhutan, India, Nepal, Pakistan and Sri Lanka. An analysis of country-level population exposure showed that approximately 750 million people are affected by combined climate hazards.
Of the affected population, 72% is in India, followed by 12% each in Bangladesh and Pakistan. The remaining 4% are spread across Bhutan, Nepal and Sri Lanka.
Originally published on the India Climate Dialogue website.