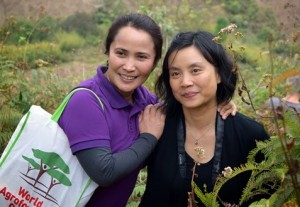 The Australian Centre for International Agricultural Research (ACIAR) has a mission to bring Australian scientists to Viet Nam and engage in collaborative research to help smallholder farmers.
'We focus on the Northwest, South-central Coast and part of the Mekong Delta', said Ms Nguyen Thi Thanh An, ACIAR's Country Manager for Viet Nam.
These are among the poorest areas in Viet Nam and are home to farmers from ethnic minorities who don't have good access to markets or the other opportunities enjoyed by farmers closer to Hanoi or Ho Chi Minh City. ACIAR supports projects in all three regions, including the Agroforestry for Livelihoods of Smallholder Farmers in Northwest Viet Nam (AFLI) project, which is led by the World Agroforestry Centre (ICRAF).
'For example, we have several projects in the Northwest', elaborated Ms Nguyen. 'Apart from the AFLI project, we have one project on counter-seasonal vegetables in Son La; we have a beef-cattle project in Son La and Dien Bien provinces; and we recently had a maize and fruit on sloping land project in Son La and Lai Chau. If you count Lao Cai as part of the Northwest, then we have vegetable projects in that area, as well'.
AFLI, which began in 2011, has research sites in Son La, Dien Bien and Yen Bai provinces. ICRAF facilitates trial plots of new agroforestry systems on farmers' land in close collaboration with the three provincial Departments of Agriculture and Rural Development (DARD), Northwest University, Northwest Centre for Forestry Sciences and Production, Northwest Agriculture and Forestry Science Institute, National Institute for Animal Husbandry and Xuan Mai Forestry University. Australia's Commonwealth Scientific and Industrial Research Organisation (CSIRO) is also a partner organisation, providing specialist scientific expertise, along with the CGIAR Research Program on Forests, Trees and Agroforestry.