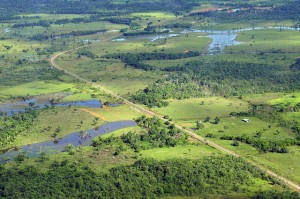 AFR100 is a pan-African, country-led effort to bring 100 million hectares of deforested and degraded landscapes in Africa under restoration by 2030. It is a platform for implementation that brings together political commitment with the necessary financial and technical support.
Experience in multiple countries has demonstrated that forest landscape restoration (FLR) can deliver significant benefits. African leaders from Ethiopia, Rwanda, Uganda, the Democratic Republic of Congo, among others are stepping forward with commitments to restore degraded and deforested landscapes in an attempt to increase resilience to climate change, develop their economies and help to mitigate climate change.
The AFR100 seeks to realize the benefits that trees can provide in African landscapes, thereby contributing to improved soil fertility and food security, improved availability and quality of water resources, reduced desertification, increased biodiversity, creation of green jobs, bolstered economic growth and livelihood diversification, increased capacity for climate change resilience, adaptation and mitigation. Agroforestry and EverGreen Agriculture have been recognized as critical aspects to the success of the initiative.
What is the origin of AFR100?
In September 2015, representatives from 13 African countries met together with civil society leaders, regional economic communities and donor agencies to discuss the needs and opportunities for a continental initiative to help scale up FLR successes. The German Ministry for Economic Cooperation and Development (BMZ) joined forces with the World Resources Institute (WRI) and the NEPAD Agency to provide initial funding to catalyze this African-led initiative to restore deforested and degraded landscapes. The EverGreen Agriculture Partnership has been vigorously engaged in the development of AFR100, and is looking forward to supporting the implementation of this visionary program.
How will AFR100 be implemented?
The initiative will help to mobilize financial and technical resources from multiple sources to help support and implement strategies for forest landscape restoration through partnerships with African governments, private sector impact investors, multilateral banks, bilateral donors and technical support providers committed to results-oriented partnerships and projects.
The AFR100 is a direct contribution to the Bonn Challenge ambition to restore 150 million hectares by 2020 and the New York Declaration on Forests to restore 350 million hectares globally by 2030. Interested partners are invited to join the AFR100 initiative by sending a letter of commitment to the NEPAD Agency as secretariat of the AFR100 initiative.