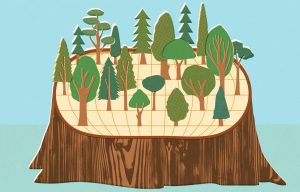 China plans to plant forests the size of Ireland. Latin American countries have pledged to restore 20m hectares of degraded forest and African countries more than 100m hectares. India is to plant 13m hectares, and on a single day last year 1.5 million people planted 66m trees in Madhya Pradesh alone.
This enthusiasm for a greener world, expressed in trees, is inspiring and overdue. For 200 years forested countries barely knew what to do with their trees. They were treated as expendable and a waste of space. But in a great cultural shift, they have changed from being dark and fearsome places to semi-sacred and untouchable.
And why not? In this new ecological age, we have learned that trees have far more value than providing timber: they keep soils moist, prevent floods and provide shelter, store carbon, beautify landscapes, protect water sources, increase biodiversity, improve conservation and induce human wellbeing. So woe betide councils such as Sheffield that want to cut down trees. From the Newbury bypass protests 20 years ago to today's battles to save the ancient woodlands along the route of the HS2 rail link, there are few surer ways of angering people than cutting down their trees.
Originally published on The Guardian