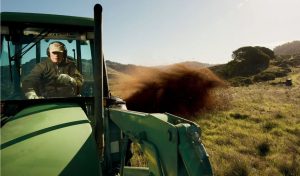 Agriculture could pull carbon out of the air and into the soil — but it would mean a whole new way of thinking about how to tend the land.
When John Wick and his wife, Peggy Rathmann, bought their ranch in Marin County, Calif., in 1998, it was mostly because they needed more space. Rathmann is an acclaimed children's book author — "Officer Buckle and Gloria" won a Caldecott Medal in 1996 — and their apartment in San Francisco had become cluttered with her illustrations. They picked out the 540-acre ranch in Nicasio mostly for its large barn, which they planned to remake into a spacious studio. Wick, a former construction foreman — they met when he oversaw a renovation of her bathroom — was eager to tackle the project. He knew the area well, having grown up one town away, in Woodacre, where he had what he describes as a "free-range" childhood: little supervision and lots of biking, rope-swinging and playing in the area's fields and glens.
The couple quickly settled into their bucolic new surroundings. Wick began fixing leaks in the barn. Rathmann loved watching the many animals, including ravens, deer and the occasional gopher, from the large porch. She even trained the resident towhees, small brown birds, to eat seed from her hand. So smitten were they with the wildlife, in fact, that they decided to return their ranch to a wilder state. For nearly a century, this had been dairy country, and the rounded, coastal hills were terraced from decades of grazing. Wick and Rathmann would often come home and find, to their annoyance, cows standing on their porch. The first step they took toward what they imagined would be a more pristine state was to revoke the access enjoyed by the rancher whose cows wandered their property.
Within months of the herd's departure, the landscape began to change. Brush encroached on meadow. Dried-out, uneaten grass hindered new growth. A mysterious disease struck their oak trees. The land seemed to be losing its vitality. "Our vision of wilderness was failing," Wick told me recently. "Our naïve idea was not working out so well."
Wick was especially bothered by the advance of a prickly, yellow-flowered invasive weed called the woolly distaff thistle. He pulled it, mowed it, doused it with herbicides. But the distaff kept moving into what had been pasture. He thought about renting goats to eat the weeds and brush, but they were too expensive. He even considered introducing wild elk, but the bureaucratic hurdles seemed too onerous.
Then Wick and Rathmann met a rangeland ecologist named Jeff Creque. Instead of fighting against what you dislike, Creque suggested, focus on cultivating what you want. Squeeze out weeds by fostering conditions that favor grasses. Creque, who spent 25 years as an organic-pear-and-apple farmer in Northern California before earning a Ph.D. in rangeland ecology, also recommended that they bring back the cows. Grasslands and grazing animals, he pointed out, had evolved together. Unlike trees, grasses don't shed their leaves at the end of the growing season; they depend on animals for defoliation and the recycling of nutrients. The manure and urine from grazing animals fuels healthy growth. If done right, Creque said, grazing could be restorative.
This view ran counter to a lot of conservationist thought, as well as a great deal of evidence. Grazing has been blamed for turning vast swaths of the world into deserts. But from Creque's perspective, how you graze makes all the difference. If the ruminants move like wild buffalo, in dense herds, never staying in one place for too long, the land benefits from the momentary disturbance. If you simply let them loose and then round them up a few months later — often called the "Columbus method" — your land is more likely to end up hard-packed and barren.
Wick was persuaded. He began preparing for the cows' return. He dug wells for water, pounded in steel posts and strung nonbarbed wire. He even bought a molasses lick to supplement the animals' diet of dry thatch. He didn't want medicated livestock excreting drugs that might harm the worms and insects living in his soil — most cows are routinely dewormed — so he tracked down a herd of untreated cows and borrowed them for the summer of 2005.
The cows beat back the encroaching brush. Within weeks of their arrival, new and different kinds of grass began sprouting. Shallow-rooted annuals, which die once they're chewed on, gave way to deep-rooted perennials, which can recover after moderate grazing. By summer's end, the cows, which had arrived shaggy and wild-eyed after a winter spent near the sea, were fat with shiny coats. When Wick returned the herd to its owner that fall, collectively it had gained about 50,000 pounds. Wick needed to take an extra trip with his trailer to cart the cows away. That struck him as remarkable. The land seemed richer than before, the grass lusher. Meadowlarks and other animals were more abundant. Where had that additional truckload of animal flesh come from?
Click here for the full story.
Originally published on the New York Times Magazine.