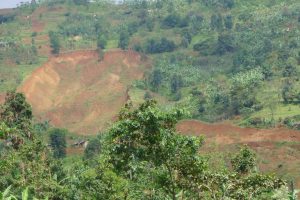 Trees on farms in Uganda are the focus of a new strategy aimed at increasing biodiversity on agricultural land
Expansion of agriculture is one of the main drivers of global deforestation and loss of habitat. Like many other countries in the world, Uganda has experienced severe deforestation, with forest cover declining by nearly 60 percent from about 5 million hectares in 1990 to just under 2 million in 2015.
While the country is now making progress in conserving the remaining state-owned forest areas, tree cover on private land continues to decline at an alarming rate. Seemingly in contradiction, Uganda's biodiversity, which relies on trees for its very survival, forms the backbone of a flourishing tourism industry that is a major contributor to the economy. Yet without the trees on farms and in privately-owned forests that allow a wide diversity of animals and plants to flourish and spread outside protected areas, this rich heritage is under grave threat, with associated ramifications not only for tourism.
The nations of the world have committed to conserve and sustainably use biodiversity under the United Nations Convention on Biological Diversity. Part of this commitment is to ensure that benefits from conserving biodiversity are equitably shared. Uganda ratified the convention in 1993 and has since put in place mechanisms for implementation, including legislation and a National Biodiversity Strategy and Action Plan. One of the key instruments is sustainable management of entire landscapes, including agricultural areas, which also supports the country's commitments to the United Nations Framework Convention on Climate Change.
To support Uganda in its efforts, the country was selected to take part in a global project supported by Germany's Federal Ministry for the Environment, Nature Conservation and Nuclear Safety through the International Climate Initiative. The project, Harnessing the Potential of Trees on Farms for Meeting National and Global Biodiversity Targets, also includes Costa Rica, Honduras, Indonesia, Peru and Rwanda.
Click here for the full story.
Originally published on the ICRAF site.