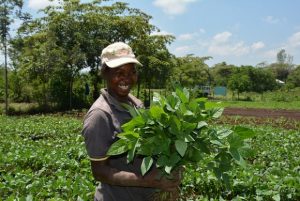 According to the 2017 World Food Prize laureate, Dr. Akinwumi Adesina, the "future of African youth lies in agriculture." This future can be realized through making agriculture both profitable and "cool" for young people. Adesina also argues for the need to move the perception of agriculture from a way of life for millions of rural people to a business.
These thoughts are echoed in the ongoing online discussion, Engaging African Youth in Agribusiness in a Changing Climate, a platform which creates a space to discuss critical issues facing African youths. Most of the discussants agree with the sentiment that agriculture is one of the critical pathways out of poverty and unemployment for young people. Accelerating the involvement of African youth in agriculture and agri-business will also help meet development goals, like those put forth by the Sustainable Development Goals (SDGs), including ending extreme poverty, zero hunger and gender equality. However, the rate of progress in many areas, especially developing countries where the CGIAR research program on Climate Change, Agriculture and Food Security (CCAFS) and its partners work, is far slower than needed to engage youths in agribusiness under a changing climate.
If the speed of progress is to be increased, the current gaps in youth engagement must be addressed. First, governments must be held responsible for investing in youth through a commitment to providing financial support, including increased spending on youth initiatives along agricultural value chains. In Ethiopia, Save the Children, in partnership with Mastercard Foundation, has established a five-month learning cycle with the aim of improving young people's socio economic status through the establishment of agri-focused individual enterprises, including input production, production, processing and retailing. A number of Ethiopian youth (both girls and boys) have started businesses selling spices, poultry, camels and bread in the Save the Children program, Youth in Action.
Second, youth must be empowered through opportunities to engage in agribusiness enterprises and linkages to private sector and development agencies. For example, in Kenya, USAID-supported East Africa Trade and Investment Hub, Syngenta, the Inter Region Economic Network (IREN) and the Toyota Kenya Academy launched the Young Innovators in Agribusiness Competition to provide young people with the chance to market their products to potential investors. Interested investors then scale-up these products to a wider audience across the globe. Through this program, Catherine Mbondo, a 35-year-old women, established Proactive Merit, a business that trades in raw honey and clay facial scrub masks which incorporate neem (Azadirachta indica), a fast growing medicinal and vegetable tree native to India, but now widely grown in Kenya. Mbondo adds value to agricultural products, marketing them as a natural cosmetics product. She intends to sell her products across East Africa.
Originally published on the CCAFS CGIAR Website