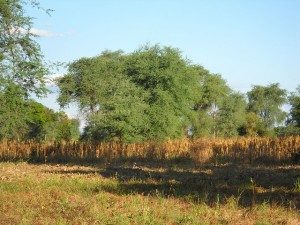 A large, old Faidherbia albida tree with a metre-plus diameter stored the equivalent of the CO2 emitted by 8 cars over one year. These useful trees play an important role in carbon sequestration, a critical part of the effort to reduce greenhouse gas emissions linked to climate change.
People in many areas of Africa gain numerous benefits from the leaves, branches and trunks of the dryland thorn tree Faidherbia albida.
The tree's spreading roots conserve the soil from wind and water erosion. Its roots fix atmospheric nitrogen which then passes to the leaves, which fertilize the topsoil when they fall, leading to higher crop yields. Faidherbia's wide canopy provides shade as well as leaves and pods that serve as nutritious fodder for sheep and goats. And for people living around lakes, the trunk has light yet strong wood perfect for traditional dugout fishing canoes. The multipurpose tree is ideal for evergreen agriculture.
And now, carbon credits could join the list of benefits Faidherbia albida brings to communities.
Research by World Agroforestry Centre (ICRAF) and partners, reported in a recent article in the journal Agroforestry Systems, has come up with formulae that allow us, for the first time, to accurately calculate the 'total above-ground biomass' of F. albida. This value indicates the amount of carbon sequestered by the tree. Working out the carbon stored in trees is the starting point for entering the global carbon credits markets, in which payments are based on the amount of the carbon in standing trees.