Originally published on the ICRISAT website.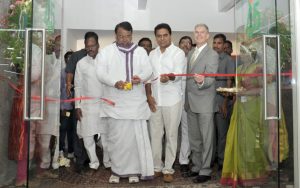 A creative space where agricultural tech entrepreneurs, scientists and technology experts can collaborate to innovate cutting edge ideas across the whole agriculture value chain for smallholder farmers, was inaugurated at the International Crops Research Institute for the Semi-Arid Tropics (ICRISAT).
The innovation Hub (iHub) was opened by Telangana IT Minster Sri KT Rama Rao and Agriculture Minister Sri Pocharam Srinivas Reddy. "This is a very important opening for the welfare of farmers. We have to enhance the farmers' incomes. Seventy per cent of people in India are in agriculture. I want to see farmers able to reduce their investments and increase productivity so they do not have to go for loans every year," said Telangana Agriculture Minister Sri PS Reddy.