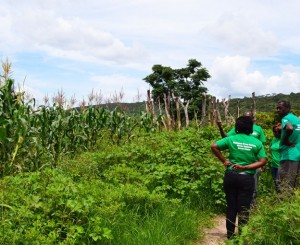 MWAZIPEZA CHANDA, Lusaka TRADITIONAL knowledge can help turn the tide against deforestation and poverty in Chongwe as more farmers become environmentally conscious and turn to 'green farming'. Most communities in Chongwe's farming area are experiencing low crop yields due to decreased soil fertility and unpredictable rain patterns over the years.
Rampant tree cutting has caused deforestation that has also seen dams and streams dry up, but farmers are now being advised to turn to their ancestors to once again see their crops thrive and their homesteads flourish. Through the Green Entrepreneurship project, an international non-governmental organisation, HIVOS, has established a training and empowerment programme to assist farmers undertake a more sustainable and environmentally friendly approach to farming.
"We want to move farmers from worrying about their crops to using tested and proven technologies that will assure them of an income," HIVOS project manager Wesley Wakung'uma says.
The initiative is being undertaken in partnership with Kasisi Agricultural Training Centre, the Dairy Association of Zambia and Micro Bankers Trust. Mr Wakung'uma says that through the Chongwe Green Society initiative, it is hoped that more farmers will take up sustainable farming to improve their productivity and incomes. The main idea behind the scheme is to encourage farmers using their available resources and proven practices to ensure better harvests while protecting their environment and ensuring the well-being of future generations.
Most farmers in Zambia concentrate on mono-cropping, usually of maize, but poor yields and delayed payments have forced many rural Chongwe inhabitants to turn to charcoal burning and trading to make ends meet. This has left a trail of destruction as erosion and desertification is taking hold leading to a perpetual cycle of poverty and environmental degradation.