Originally published on the CIMMYT website.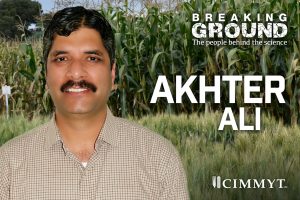 Akhter Ali always knew he wanted to have an impact on the livelihoods of farmers in Pakistan. "I come from a farmer family – the poverty and inequality of rural communities always disturbed me," said Ali, who was born in Multan district, Pakistan. "I knew from a young age I wanted to do something to help my community and the rural poor throughout my country."
Ali, an agricultural economist at the International Maize and Wheat Improvement Center (CIMMYT), is working to sustainably increase agricultural productivity and incomes for farmers through the Agricultural Innovation Program (AIP), an initiative funded by the U.S. Agency for International Development to build up the country's agriculture sector through the development and dissemination of new agriculture technologies.