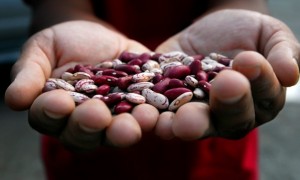 Scientists are hailing a new breed of bean seed as a breakthrough, thanks to its ability to grow amid rising temperatures and yield more nutritional value, qualities they believe can thwart the anticipated destruction of nearly half of all bean production.
The new seed was launched on Wednesday by scientists from the Consultative Group for International Agricultural Research (CGIAR) in Ethiopia's capital, Addis Ababa. As well as being more resilient to heat, the bean has a higher iron content.
About 400 million people rely on beans for subsistence, according to CGIAR. But by 2050 nearly half of the world's bean production could be wiped out by rising temperatures if new seed varieties are not rolled out immediately.
"Beans are not very well adapted to high temperatures because they originated in the cool hills and mountains of central America, Mexico and South America. So pushing them down into the warmer areas has always been a challenge," said Steve Beebe, a researcher at CGIAR, based at the International Center for Tropical Agriculture in Colombia.
In 2012, CGIAR researchers began to test more than 1,000 types of beans in a bid to find "heat beater" beans able to grow amid high temperatures and drought. Scientists cultivated test plots on Colombia's Caribbean coast and in greenhouses, before eventually discovering 30 heat-tolerant bean types that can withstand a 4C increase in temperature. CGIAR said it used natural breeding to discover the seed.